एएसएसएबी, नेपाल प्रतिनिधिमंडल का सीएसआईआर-आईएचबीटी, पालमपुर में एक्सपोजर विज़िट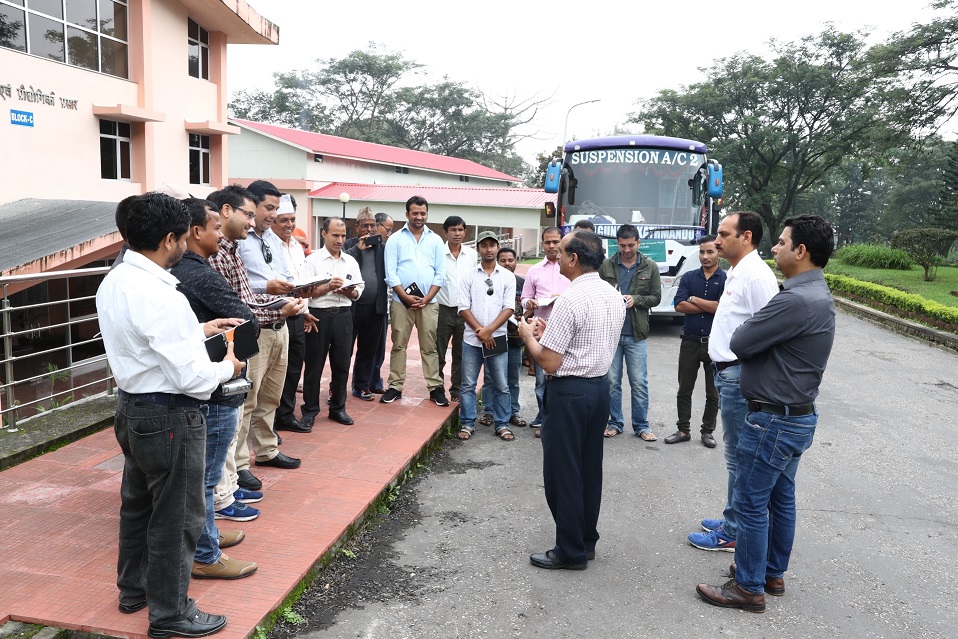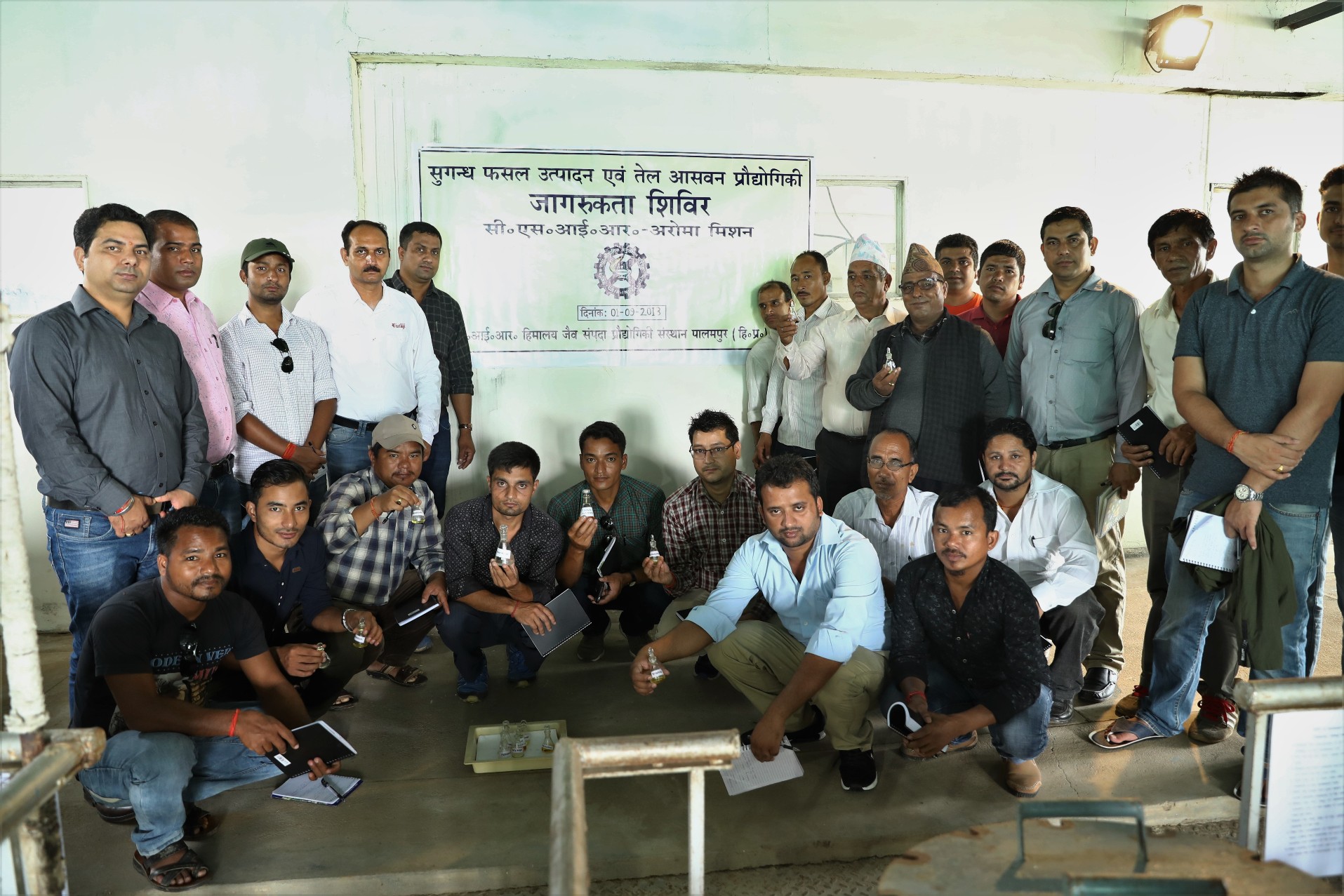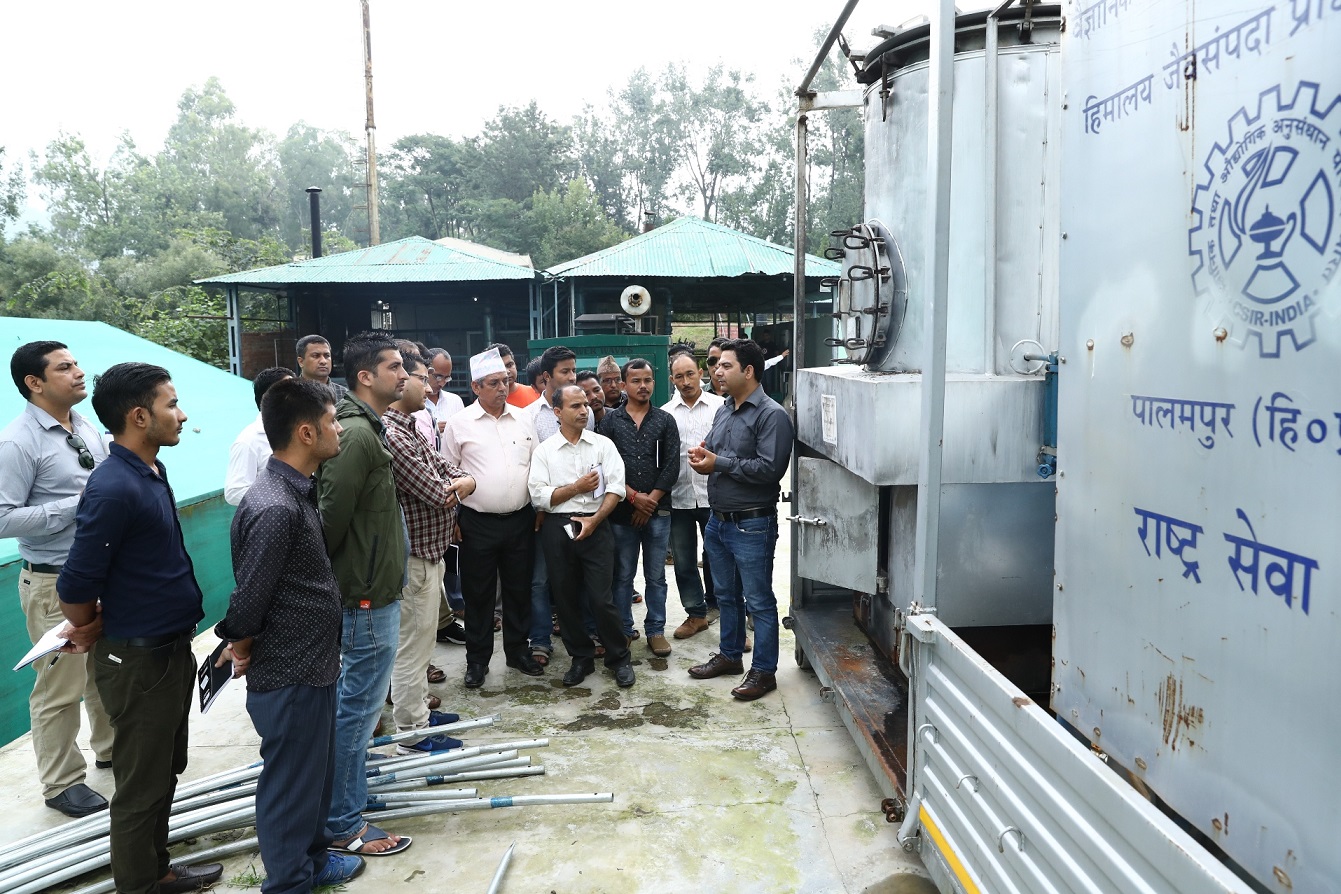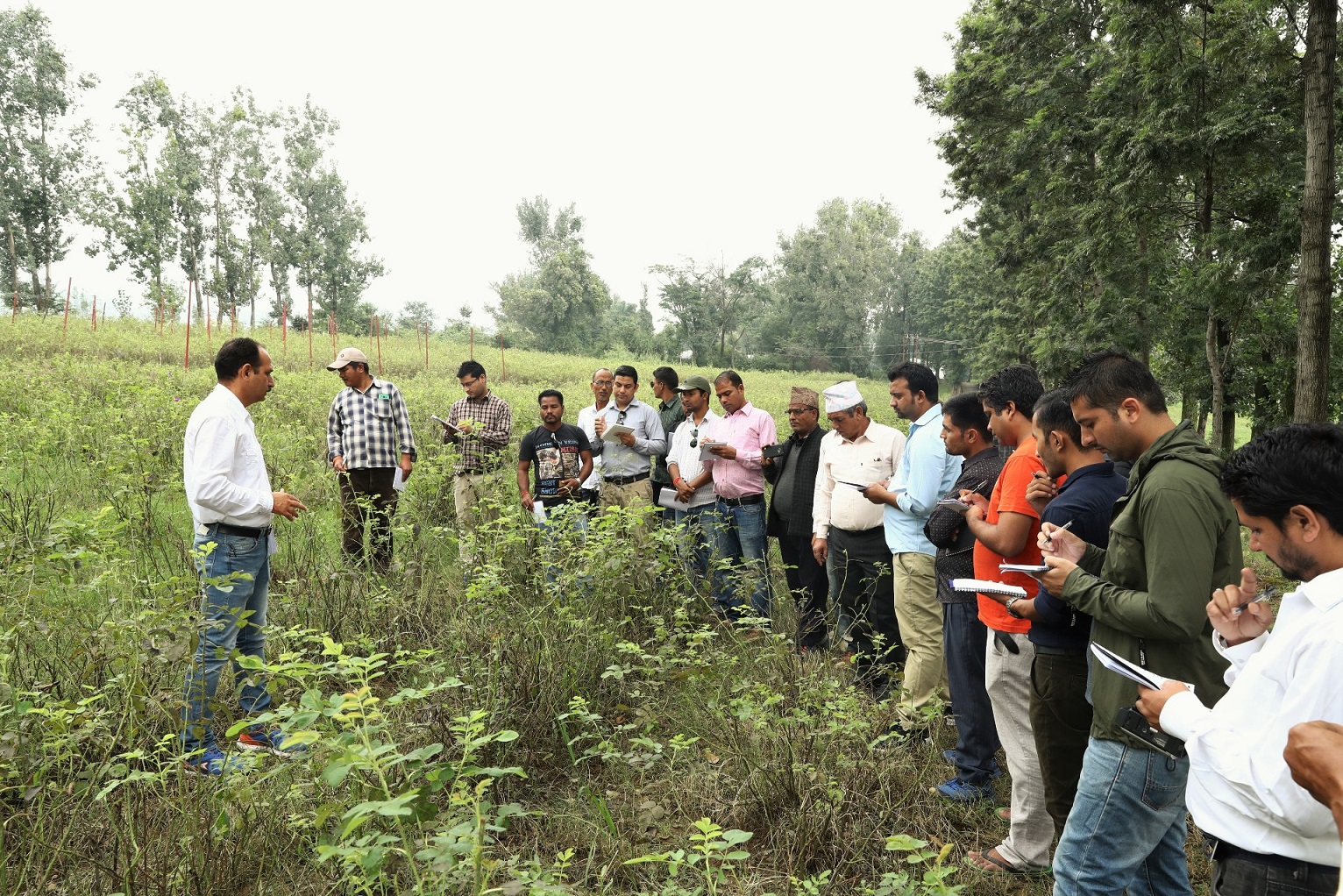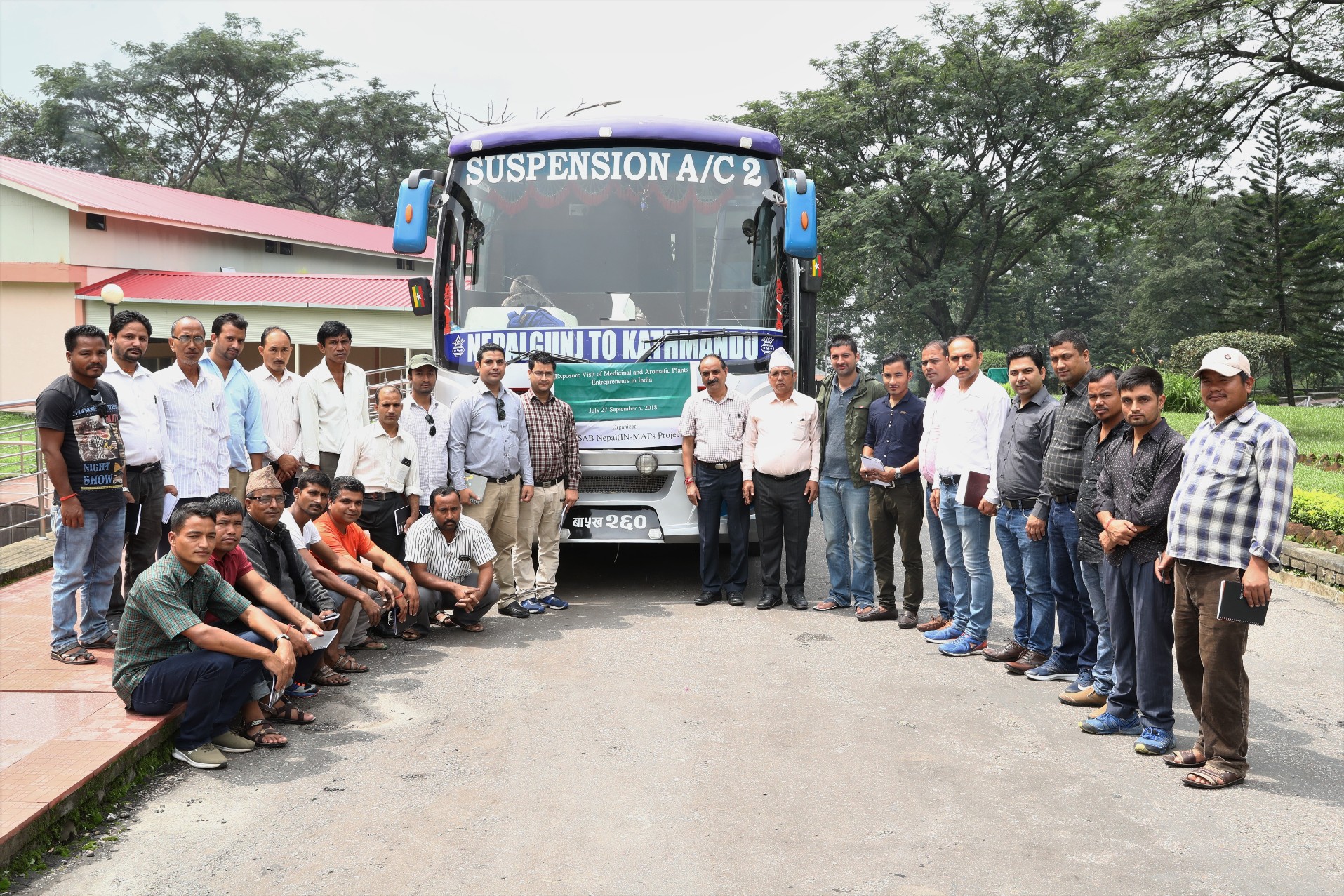 नेपाल के विभिन्न हिस्सों से 27 औषधीय और सुगंधित पौधे पेशेवर और व्यवसायियों के एक समूह ने सीएसआईआर-हिमालयी बायोरेसोर्स टेक्नोलॉजी, पालमपुर संस्थान का दौरा किया। यात्रा का मुख्य उद्देश्य औषधीय और सुगंधित पौधों की खेती, फसल कटाई उपरांत प्रबंधन, भंडारण, उत्पाद विकास, विविधीकरण और मूल्यवर्धन सहित अन्य बिधियों का ज्ञान अर्जित करना था। प्रतिनिधि मंडल को संबोधित करते हुए, सीएसआईआर-आईएचबीटी पालमपुर के निदेशक डॉ संजय कुमार ने कहा कि नेपाल और हिमाचल प्रदेश का जलवायु एवं कृषि स्थितियां में समानता हैं अत: सीएसआईआर-आईएचबीटी में विकसित प्रौद्योगिकियों की अधिकांश प्रासंगिकताओं को नेपाली लोगों के जीवन स्तर को और बेहतर बनाने तथाआजीविका सुधारने के लिए दोहराया जा सकता है। वरिष्ठ प्रधान वैज्ञानिक डॉ. आरके सूद ने औषधीय और सुगंधित पौधों पर संस्थान गतिविधि और सीएसआईआर-अरोमा मिशन के बारे में विस्तार से वर्णन किया जिसमें अगले दो वर्षों में भारत में 5,500 हेक्टेयर क्षेत्र सुगंधित फसलों के तहत लाया जा रहा है। डॉ. राकेश कुमार, प्रधान वैज्ञानिक ने दमस्क गुलाब, रोजमेरी, जाटमांसी और स्टेविया जैसे उच्च मूल्य फसलों के बारे में प्रतिनिधिमंडल को अवगत कराया, जिन्हें नेपाल के ताराई और पहाड़ी इलाकों में सफलतापूर्वक उगाया जा सकता है। रासायनिक अभियंता ई. मोहित शर्मा ने सुगंधित फसलों प्रसंस्करण तकनीकों और मूल्यवर्धन के बारे में विस्तार से चर्चा की।
एएनएसएबी, नेपाल और सीएसआईआर-आईएचबीटी, पालमपुर संयुक्त रूप से औषधीय और सुगंधित फसलों और अन्य नेपाल संबधि प्रासंगिक प्रौद्योगिकियों हेतु परस्पर सहयोग पर बिचार भी हुआ।
नेपाल से आए एएनएसएबी के क्लस्टर समन्वयक डॉ. नविन राज जोशी और जर्मन वित्त पोषित परियोजना 'ड्यूश गेसेलसैक्फ्ट फर इंटरनेशनल ज़ुसमैरबीट(गीज़)' के कार्यक्रम अधिकारी श्री एलपी सुबेदी ने दृढ़ता से विश्वास दिखाया कि एक्सपोजर विज़िट ने उन्हें औषधीय और सुगंधित पौधों का ज्ञान साझा करने के अवसर प्रदान किया और इन पौधों की खेती का विस्तार, उत्पादों के विकास एवं विविधता और विपणन को बढ़ाने के लिए प्रेरित किया ।
बताते चलें की एशियाई नेटवर्क फॉर सस्टेनेबल एग्रीकल्चर एंड बायोरिसोर्स, काठमांडू, नेपाल (एएनएसएबी) दक्षिण एशिया में जैव विविधता संरक्षण और आजीविका सुधार के लिए प्रतिबद्ध है। इसका दृष्टिकोण समुदाय के सशक्तिकरण और आर्थिक प्रोत्साहन पर केंद्रित है। यह समुदाय आधारित उद्यमों और मूल्य श्रृंखलाओं, प्राकृतिक संसाधन प्रबंधन और जैव विविधता संरक्षण को बढ़ावा देने हेतु रणनीतियों को लगातार विकसित, समेकित, संस्थागत और आगे बढ़ा रहा है।
Exposure Visit of Asia Network for Sustainable Agriculture and Bioresources Kathmandu Nepal (ANSAB Nepal) delegation to CSIR-IHBT, Palampur
A group of 27 medicinal and aromatic plant professional and practitioners from different parts of Nepal visited CSIR-Institute of Himalayan Bioresource Technology, Palampur. The main objective of the visit was to have exposure on MAPs cultivation, harvesting and post-harvest handling including storage, product development, diversification, and value addition in India. While addreesing the delegates, Dr Sanjay Kumar, Director of CSIR-IHBT, Palampur said that climate of Nepal and Himachal Pradesh have similar agroclimatic conditions and hence most of relevant the technologies, developed at CSIR-IHBT, can be replicated in Nepal for the upliftment and livelihood generation of Nepali people.  Dr RK Sud, Senior Principal Scientist, described in detail about the Institute activity on medicinal and aromatic plants and about the CSIR-Aroma mission in which more than 5,500 hectares of area is being brought under aromatic crops in India in the next two years. Dr Rakesh Kumar, Principal Scientist, apprised the delegation about high value crops such as damask rose, rosemary, jatamansi and stevia which has huge potential and can be grown successfully in tarai and hilly areas of Nepal.  Er Mohit Sharma, Chemical engineer, discussed in detail about value addition of aromatic crops and their processing techniques.
Dr Navin Raj Joshi, the cluster coordinator of ANSAB and Mr L P Subedi Programme Officer of German funded project Deutsche Gesellsxchaft fur Internationale Zusammearbeit (giz) strongly believed that the exposure visit provided them opportunities to share and learn about the success cases of MAPs that motivates to further expand the MAPs cultivation, develop and diversify the products and enhance market linkages.
ANSAB is committed to biodiversity conservation and livelihood improvement in South Asia. It places community empowerment and economic incentives at the heart of its approach, and has been consistently evolving, consolidating, institutionalizing and advancing the approaches and strategies for the promotion of community-based enterprises and value chains, natural resources management and biodiversity conservation, enabling policy environment and multi-stakeholders collaboration.
ANSAB, Nepal and CSIR-IHBT, Palampur will jointly collaborate on future prospection of medicinal and aromatic crops and other relevant technologies for Nepal.