माननीय केंद्रीय  राज्य मंत्री (स्वतंत्र प्रभार) सूक्ष्म, लघु और मध्यम उद्दम मंत्रालय, श्री गिरिराज सिंह जी का सीएसआईआर-आईएचबीटी में दौरा
माननीय राज्य मंत्री (स्वतंत्र प्रभार) सूक्ष्म, लघु और मध्यम उद्दम मंत्रालय, श्री गिरिराज सिंह जी ने 30 अप्रैल 2018 को सीएसआईआर-आईएचबीटी में दौरा किया। सांसद आदर्श ग्राम योजना के तहत, इन्होंने, नवादा ग्रामीण क्षेत्र में सौर्य चरखा से बूनकर समाज को लाभान्वित किया है तथा विज्ञान की मदद से रासायनिक उर्वरक की जगह अपशिष्ट पदाथों से बने जैविक खाद के उपयोग को बढ़ावा देने पर बल दिया। श्री सिंह ने आईसीएआर के कृषि-वैज्ञानिकों के साथ मिलकर मोरिंगा बायोमास पर आधारित पशुओं के चारे को बनाने के लिए प्रयासरत हैं।
सीएसआईआर-आईएचबीटी में स्टीविया उत्पादन और प्रसंस्करण की वैज्ञानिक तकनीकों को गन्ना आधारित उद्योगों के समकक्ष अपार संभावनाएँ जताईं। He informed that CSIR-IHBT will get Technology Business Incubator (TBI)
माननीय मंत्री जी ने ईच्छा प्रकट करते हुये राज्य एंव केंद्र के सूक्ष्म, लघु और मध्यम उद्दम विभागों को स्फूर्ति योजना के अन्तर्गत संस्थान के साथ कदम से कदम मिलाकर  किसानों के भले के लिए कार्य करने सलाह दी ताकि माननीय प्रधान मंत्री के किसानों की आय को दुगना करने के सपने को साकार किया जा सके। इससे पूर्व माननीय मंत्री महोदय ने संस्थान की गतिविधियों का अवलोकन किया और वैज्ञानिकों, शोध-छात्रों और संस्थान द्वारा मार्गदर्शित इंक्यूबेटर्स से परिचर्चा की।
इस अवसर पर स्थानीय लोकसभा सांसद माननीय श्री शान्ता कुमार जी ने संस्थान में पधार कर शोभान्वित किया।  श्री शान्ता कुमार जी ने संस्थान दवारा किए गए महत्वपूर्ण शोधकार्यों की सराहना की तथा स्थानीय चाय बगानों के उत्थान के लिए किए गए वैज्ञानिक शोधकार्यों को बागवानों तक पहुँचाने के लिए कार्य करें। इन्होंने ओर्गानिक चाय को बढ़ावा देने के लिए संस्थान की सराहना की ताकि स्थानीय क्षेत्र को इसके लिए विशेष पहचान मिल सके। Shri Shanta Kumar Ji: Vigyan should be used with Vivek, otherwise it could be disastrous to the mankind
संस्थान निदेशक डॉ संजय कुमार ने इस कार्यक्रम के शुभारंभ में माननीय राज्य मंत्री श्री गिरिराज सिंह तथा श्री शान्ता कुमार जी का संस्थान में पधारने एंव मार्गदर्शन और आशीर्वाद के लिए आभार प्रकट किया। Prior to addressing, planting of medicinal plant Ginkgo was done by the minister and the MP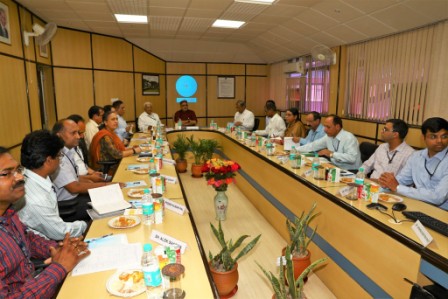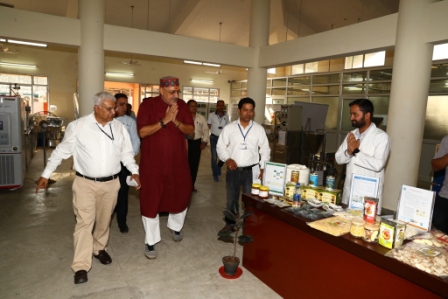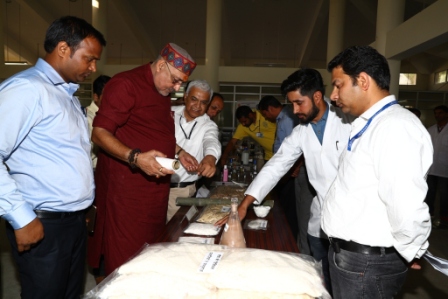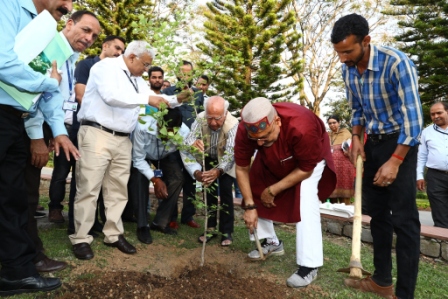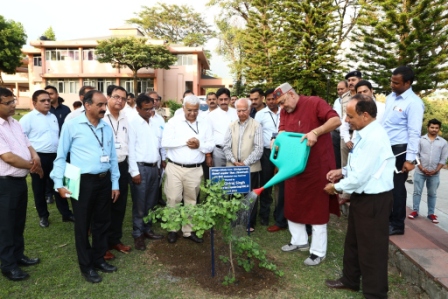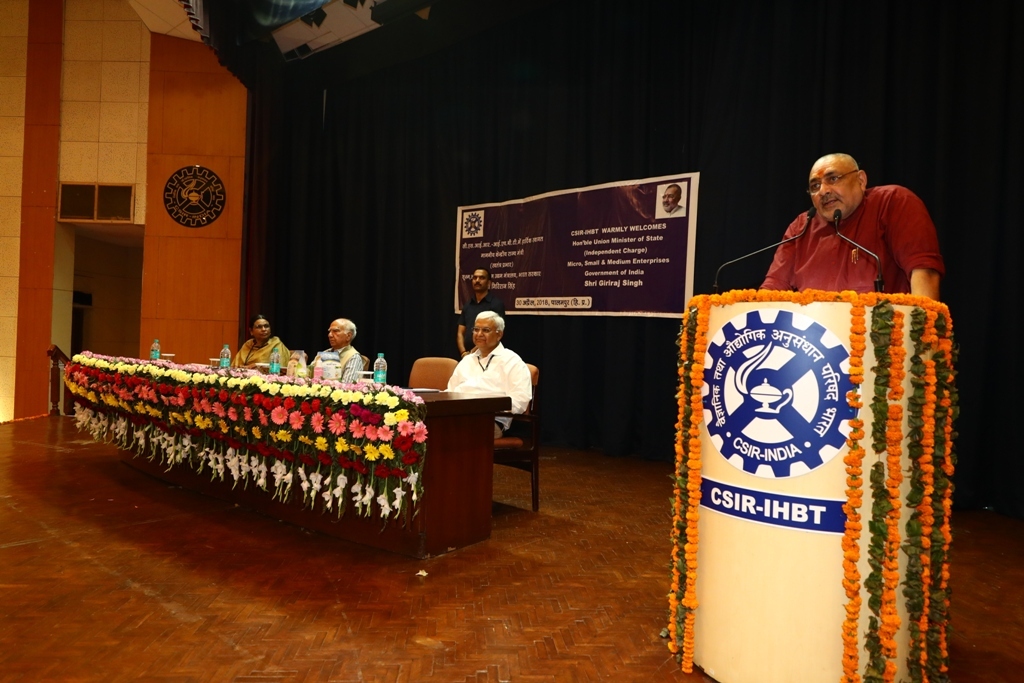 Second day of visit of  Hon'ble Minister of State for Micro Small Medium Entrepreneurs (MSME) to CSIR-IHBT, Palampur (30thApril, 2018)
Shri Giriraj Singh, Hon'ble Minister of State for Micro Small Medium Entrepreneurs (MSME) in second day of his visit to CSIR-IHBT, Palampur visited various facilities, labs and fields. During interactions he said that "It is a matter of happiness to know that CSIR-Institute of Himalayan Bioresource Technologyhas a sharp focus to develop and commercialize technologies, processes and products from Himalayan and other bioresources using cutting edge science and technology. It is also heartening to see that the institute strives to improve the livelihood of the farmers to strengthen their socio-economic status through various activities viz., Aroma and Phytopharmaceutical Missions, floriculture and stevia, tea and many others".
He applauded the Institute's active support to farming community by providing quality planting material, standardized agro- and process technologies on medicinal, aromatic and industrial crops like stevia, which is not only generating higher revenue to the farmers but has given relief to the farmers from the menace of wild animal, monkeys and weather aberrations. CSIR-IHBT's new initiatives such as developing region specific cluster of farmers, specialized training programmes forcultivation of aromatic crops in waste/ unproductive/ unutilized land, installation of central distillation unit in the farmers' premises, connectivity through networking chain for constant advisory shall further strengthen the scope of improving livelihood. 
was satisfied to observe that CSIR-IHBT has been giving open support for small and medium entrepreneurs to use its facilities, and has been recognized as one of the incubation centres by MSME. Institute has contributed significantly through technology development and transfer to entrepreneurs and industrial partnersin various fields viz., industrial enzymes, low calories sweeteners (stevia), crispy fruits, nutraceuticals, health promoting molecules like antioxidants.
Stevia, wild marigold, air purifying indoor plants, ginkgo, Kutki among field crops and ready to serve teas, tea wines, algae culture technologies attracted the minister the most.
Tea industry is faced today with issues of labour shortage and rising cost of tea production, and institute's efforts in promotion of tea farm mechanization and development of value added tea products like ready to serve tea, tea wine and tea catechins  is respite to this industry. It is also noteworthy that institute has promoted the ready-to-serve local cuisine 'KangriDham' and 'Ayurvedic Khichri' which are preservative free with longer shelf-life for wider marketability. Aligning with Bamboo Mission of Government and the vast bamboo resource available in the region, institute's objective to develop various industrial products such as wooden board, textile yarn, charcoal, etc. is highly appreciable.
Societal empowerment in country like India is the need of the hour where adequate skilled manpoweris required to be developedfor sustainable utilization of bioresources, especially rare, endangered and threatened plant species. It is a pleasure to note thatthe Institute has positioned to promote Skill Development through special courses and programmes in various areas, like Animal Breeding & Housing Practices, Hands-on Laboratory Experiment and Analysis, training courses in Gardening, Plant Tissue Culture, Floriculture, Protected Cultivation etc. This would help entrepreneurs to develop industries around local bioresources of high commercial values.
Development of relevant technologies however needs sharp focus on fundamental science. I observed that this institute has carried out commendable work in the area of basic science, ranging from utilization of bioresource potential, environmental protection to conservation of natural resources. There remains still greaterscope to develop and promote technology-based entrepreneurship so that the youth become job creator and not the job seekers. Therefore, expectations are high from young scientists who have to think out of the box to take forward the national missions, and emphasized on addressing the need of mountain communities to evolve into Swasth, Samarth and Sashakt Bharat. 
It is worth mentioning here that the minister has already announced setting up of TBI (Technology Business Incubator and Livelihood Business Incubator) in the Institute for fostering incubation culture and entrepreneurship in the region. He motivated the scholars and students of institute to become entrepreneurs based on the technologies they are associated with.
Dr Sanjay Director of the Institute expressed his gratitude for the visit, motivation to the staff and scholars and guidance for future course of work.